If you've ever wondered what it might be like to host some choir members in your own home, please read the following testimony from the Shepherd family who are long time supporters and gracious hosts:
"Hello, we are the Shepherd family. In 2008 we had the privilege of opening our home to the I AM children's choir from Uganda, Africa. We had the rare opportunity of hosting the whole choir between our home and my Mother in law's home on adjoining property.
"For three months we got to experience a different culture and make lots of new friends. We had been sponsoring some of the children at the orphanage for several years and a few of them were a part of this choir. Being able to meet your sponsored child takes on a whole new meaning as you are personally able to pour out the love of Christ to these kids.
"We were unsure of what to expect, especially having so many kids in one house. We were amazed that twenty one children could get along famously for that long without fighting. The Ugandan kids share everything, and soon our kids followed suit. These kids have an amazing love of the Lord that will inspire your walk with God and challenge your faith.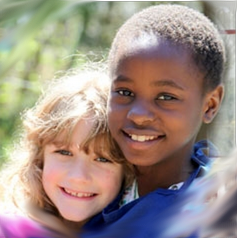 "To experience the joy the Lord brings to the broken-hearted and how He restores lives is an experience like none other. In as much as we were called to serve during this time, I feel that God ministered to us as well and gave us even more passion for orphans and the lost. We feel our children were also given a rare opportunity to give of themselves and to glimpse a small aspect of other's suffering. I know many of our children were touched by this experience as several of them want to be missionaries now.
"It's a rare opportunity to bring the mission field home to where you live. We are thankful for the opportunity we had to be a blessing and receive blessing by opening our home and hearts and would highly encourage others to be willing to do the same." – Crystal & Terry Shepherd.